adm Group to Transform the Marketing Execution Industry with Latest Technology and Sustainability Tools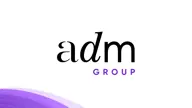 GLOBAL, 12 July 2023: adm Group, a leading global marketing execution partner today unveiled its new strategy aimed at driving transformative change within the industry. The launch of the value proposition is bolstered by a bold new brand identity for the Group and marks an exciting milestone in its evolution. 
Over the past 18 months, adm has embarked on a comprehensive program to drive transformation across its business. This is a response to the evolving needs of marketeers as they seek to move away from siloed marketing thinking towards integrated multi-channel campaign strategies informed by data-driven insights which drive measurable outcomes supporting return on investment. This drive towards performance marketing requires a new kind of execution partner, which can deliver agile, sustainable solutions across multiple consumer touchpoints supported by intuitive technology. 
Significant investments have been made to bolster adm's capabilities and tools to meet this challenge. These include:  
Technology and data: adm is investing over $10 million to develop its newly branded 'Hive' technology suite to deliver seamless integration for multi-channel campaign execution across the end-to-end supply chain ensuring transparency, efficiency, and simplicity. This is supported by the creation of a data and insights hub with over 50 data analysts based in Nagpur in India to ensure that data capture is turned into meaningful insights to inform campaign strategies.
Sustainability: Recognized with a Platinum rating from EcoVadis for the third consecutive year, adm's mission is to drive sustainable brand execution by providing clients with visibility, data, and strategies to help them deliver their sustainability targets across all of their marketing activities. We do this using our team of consultants supported by our proprietary sustainability measurement technology developed in partnership with Anthesis, one of the world's largest sustainability consultancies. We believe this platform is the most sophisticated sustainability measurement tool dedicated to supporting marketing activity. 
Shopper Marketing: To truly convert shoppers into buyers, brands need to develop marketing strategies that are rooted in insights, offering a seamless customer journey from online to offline and vice versa. The Group recently strengthened its capabilities across both shopper marketing and digital solutions through the acquisition of DASS and its proprietary Martech platform, FLOW. DASS is a rapidly growing digital and shopper marketing boutique agency focused on delivering both strategy and execution to improve the performance of marketing activation both in-store and on-line.
Consultancy change management and process-reengineering: adm has always adopted a consulting-led mindset to understanding client needs and challenges. The recent acquisition of the Effectus consultancy business has significantly added consulting, supply chain, and change management capabilities as well as bringing an offshore technology, process delivery and data analyst centre with over 400 people located in India. 
Supply Chain excellence: adm believes in sourcing directly from manufacturers wherever possible. This ensures best price and supply chain transparency as well as enabling ethical sourcing initiatives and sustainability planning. Our sourcing hubs in China, India and Latin America are now coordinated with our local, in-country teams through our newly established global centre of excellence in Romania and the significant expansion of our supply chain centre in Mexico. Our team of over 100 procurement and logistics experts will ensure seamless delivery of consistent supply chain services for our clients.
Dan Pike, Chief Strategy Officer, adm Group states 'Our sector is seeing a shift in focus. Cost efficiency remains important but the requirement to deliver measurable returns on investment of marketing spend alongside meeting challenging sustainability targets requires a new way of thinking and capability set. We work with brands to enable the transformation of their marketing activity, deploying technology and expertise to improve agility, digitalization, sustainability, and visibility. To align with our new market positioning, adm has undergone a brand revitalization. The Group's new logo, visual identity and website present a refreshed, bold image, exuding creativity, transformation, flexibility, and adaptability. adm's new brand identity represents the company's continued commitment to growth and innovation, the evolution of its core brand values, and its dedication to creating meaningful and sustainable brand experiences for its clients.'
Ed Colflesh, Group CEO, adm Group stated, 'This is an exciting time for adm, the challenge of raising the bar to meet our clients' evolving needs, and to provide consumers with unparalleled brand experiences in a fast-moving, omnichannel environment is one we are motivated to take on. The industry is going through a metamorphic change, requiring brands to seek beyond the capabilities provided by traditional marketing service providers. The investments that we have made over the last 18 months are fundamental to embracing that industry evolution. We are committed to making further investments in the future to continually transform our business to meet the changing needs of our clients.'