Our insights team uses consumer and market insights to identify trends and opportunities for our clients. By collaborating closely with brands, we strive to optimize efficiency, minimize costs, and mitigate risks in response to potential changes in the consumer landscape.
With over 50 years of research experience, we have the expertise to deliver high-quality research and actionable insights that drive tangible business results across multiple industries.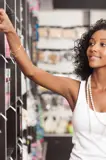 Consumer insight – we run studies with target consumers to test emotional reactions, explore brand territories, and gain insights.
Concept validation – we test design routes and new product developments with consumer communities.

Assuring effectiveness – we visit stores to collect feedback and insights, measure effectiveness, and implement corrective active programs if required. 
Effectus is an independent change execution leader for some of the world's most recognized brands. It focuses on unlocking both efficiency and effectiveness opportunities across clients' sales, marketing, and commercial supply chain functions. The Effectus team joined adm Group by acquisition in 2022. They complement our business portfolio to further strengthen consumer and customer studies.