Since 2021, the number of people employed by part of this initiative has grown by 160%
adm is in L'Oréal's top 3 suppliers (for Solso FTEs in our domain of activity)
We have now expanded the initiative globally
The brief
Effect positive change through procurement
Global supply chains are complex, meaning smaller businesses who hire people in difficult social and financial situations find it hard to work for large international companies. L'Oréal, which is committed to building a more sustainable and inclusive world, wanted to change this. It tasked adm Group with transforming its procurement partnerships and supply chain through projects that support female shareholder programs, fair-trade sourcing, and poverty alleviation.
Client: 
L'Oréal

Sector:
Beauty / luxury

Solutions: 
Insight, design, procurement
Region:
Global
Share: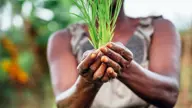 What we did
Opening up new opportunities for underrepresented suppliers
Identifying responsible businesses that were previously unable to compete with the short lead times and price competitiveness of larger suppliers, we put in place training and upskilling to upgrade manufacturing processes to be in line with international luxury brand expectations.

Our focus areas were support of poor, rural populations together with female empowerment and fair-trade sourcing, particularly in India. We needed to show how chosen projects would not only provide employment but also how they would provide substantial, durable, and measurable improvements to income and livelihood on an annual basis.
Outcome
Improving life chances for the economically disadvantaged
We advocated responsibility and inclusion all along the value chain, educating newly onboarded companies around making a social inclusion commitment a competitive advantage. The partnership with L'Oréal has enabled us to train and onboard suppliers. And the program benefits the most economically disadvantaged communities by upskilling workers, paying them a living wage, and ensuring they have a stable and reliable livelihood.