Where should low and no-alcohol brands prioritise their marketing spend?
The low and no-alcohol market is expected to reach $25 billion by 2024 (ISWR, 2021) , with a compound annual growth rate of 17%. Driven by health-conscious and sober-curious movements, brands like Lyle's are seeing growth of 300% in January 2022 alone (The Spirit Business, 2022), and this is set to rise. This is a market that is skyrocketing. 
However, an ever-growing market also means an increasing competitive one. With big names in beer, spirits and wine entering their non-alcoholic options into the ring too, it can be harder for smaller brands and start-ups to maintain visibility in this category.  
So, where should they put their marketing spend in order to stand out?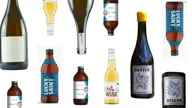 How can brands use creative packaging and unique design to ensure their products stand out in both on and off-trade environments?  
The use of striking and vibrant visuals that catch the consumer's eye is an effective way to ensure product match up against established drinks. Brulo use abstract artwork to turn cans of their IPA into a talking point that quite literally catches the eye! For spicy spirit brand Caleno, their bright colour-block designs seek to bring the 'fun' back into non-alcoholic drinks, which have long been seen as a 'boring' option. 
Some non-alcohol spirits have focused on qualities previously felt to lack in this market, such as a sense of craftsmanship and premiumisation. Cedar's use beautiful botanical imagery and copper accents to highlight the careful and time-honoured distillation process; they are as much a product of expertise as any liquor. 
From here, brands can go beyond the bottle with eye-catching design to in-store displays as well. No & low beverages have less restrictions on where in the supermarket they can be displayed unlike alcohol-containing drinks, therefore brands should utilise the opportunities to this to increase brand awareness and build mental availability. 
Events and experiences that generate interest are particularly important for no & low new launches as they raise brand profile.  
The popularity of Club Soda's first non-alcoholic off-licence demonstrates how creating an experience around no & low offers great ROI. Since their 2021 pop-up, Club Soda has been able to open a permanent bar in Covent Garden that regularly hosts sell-out tastings and events. The sober consumer movement is not one that requires mobilising.  
Activations that capitalise on media trends are also a great way to maximise campaigns when spend is conservative. Lucky Saint IPA has effectively employed Dry January in their activations. They have run outdoor campaigns with digital and sampling activations throughout the month that can target consumers most likely to engage in Dry January (the working commuter).  This helps create lasting memorability that can hopefully extend beyond just the first month of the year. 
On Trade 
After visibility and awareness, the next challenge for brands is to become drink of choice in on-trade environments. How can no & low brands also target the 'sober-curious' - who may already have an alcoholic drink in mind when they walk into a bar? 
Studies show 9 out of 10 customers stick to their first drink for the rest of the night and make this choice in under 8 seconds. 1 in 4 are unsure what they will order when they enter. The challenge lies in dictating this first drink, and therefore POSM needs to be engaging and reactionary to sway consumers.  
Consumers are more likely to order a drink they can see, so visual POSM is essential. Examples can range from signs on beer taps highlighting alcohol-free variations to beautiful pre-made mocktails on menus. The more touchpoints in the venue, the more likely the consumer is to be swayed in their first choice.  
Creating a buzz around no & low is also key – from personal bartender recommendations to new monthly specials and offers. All Bar One have positioned their non-alcoholic G&T for dry January 2023 as a 'creation of Emily, one of our talented team members.' This creates a more personalised recommendation that can sway consumer choice.  
So, what is the formula? 
The central way in which brands should look to use their spend effectively is to create an experience around their product. From creating design talking points that stop & engage, to carefully curating activations that lead to mental availability at point-of-sale. All help to position no & low brands alongside the big players in the beverage market – both alcoholic and alcohol-free.