Cross-border 'last mile' logistics solution
Inventory management solution
Webstore technology to support Team orders
The brief
We supported one of South East Asia's fastest-growing super apps specializing in transport, food, shopping and finance.
adm was tasked with developing two stakeholder websites: a rewards/branded items portal for employees across the APAC region, and a driver/walker 'swag' store providing partner essentials, such as food bags and apparel.
Client:
Lifestyle brand

Sector:
Lifestyle

Solutions:
Execute, Technology
Share: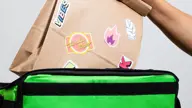 What we did
In a truly regional approach, adm provided seamless webstore delivery across Singapore, Malaysia, Indonesia, Thailand, Philippines, Vietnam, Cambodia, Myanmar, India, China and the USA.
Harnessing the strengths of each market, we paired locally-sourced branded products with gift boxes (sourced centrally) and integrated with the company's existing driver web architecture.
With local stakeholder engagement and product quality also high on the agenda, adm also provided logistics/warehousing and regional sourcing capability.